The EGRISS Global Annual Inclusion Survey (GAIN) aims to monitor statistical projects related to refugees, individuals in need of international protection, internally displaced persons (IDPs), and statelessness within national data systems and/or using the international recommendations produced by EGRISS. 
As an annual survey, it enables EGRISS to monitor the use of the International Recommendations, indetify challenges countries face and inform upcoming priorities for the group. Initiated in 2021, the survey captured data on projects related to the IRRS and IRIS during its first two rounds, with findings summarized in the Expert Groups' 2021 and 2022 Annual Reports. 
2023 marks an expansion of the survey's ambition in terms of both scope and coverage. The 2023 GAIN Survey aims to offer a more comprehensive understanding of how official statistics on refugees, IDPs, and stateless populations are generated by reaching out beyond the EGRISS member-base. Global dissemination of the GAIN Survey will take place every 4 years, facilitated by the UN Statistical Division. In addition, the third round of the survey will also monitor projects on Statelessness Statistics and IROSS, in addition to refugees and IDPs that have been covered in previous years. 
The survey is designed for respondents from organizations producing or coordinating national statistics as well as practitioners from local/regional/international organizations supporting these efforts.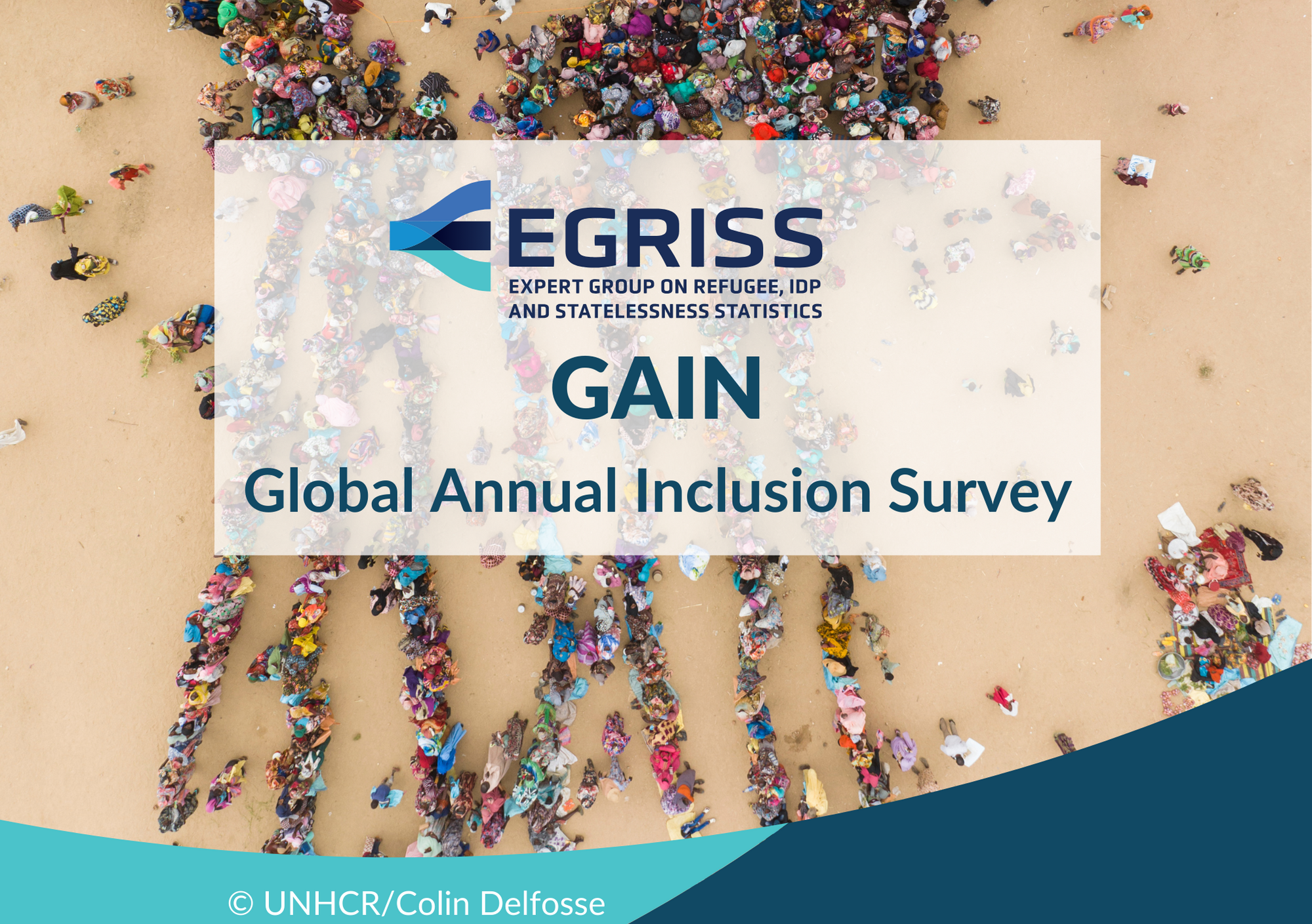 The self-administered, online questionnaire (available in English, French, and Spanish) takes approximately 10-20 minutes to fill-in. You can participate from September 18 to October 9, 2023. 
1. Who is the GAIN survey aimed at, and what is its purpose?
The GAIN survey is designed for countries (NSOs or other responsible agencies) and national, regional, and international organizations working to enhance official statistics related to refugees, individuals in need of international protection, internally displaced persons (IDPs), or stateless persons. The purpose of this survey is to collect information on planned, ongoing, or completed statistical projects involving forcibly displaced populations. The survey also aims to raise awareness and support decision-making in EGRISS's work. 
2. Who should fill in the questionnaire as the respondent for the organization?
The questionnaire should be completed by the focal point or the most knowledgeable person in your organization regarding the related statistical projects. You can include contact information for several colleagues if necessary. 
3. How long does it take to complete the survey?
The time required to complete the questionnaire typically ranges from 10 to 20 minutes, depending on the number of projects you need to report. Most questions are designed for quick, concise responses, with only two open-ended questions requiring brief descriptive answers. 
4. Can I complete the online questionnaire in multiple sittings?
Yes, you have the option to save a draft of the questionnaire and continue at a later time. This can be useful if you need to verify or gather additional information from colleagues within your organization. However, we recommend completing the questionnaire in one go, if possible, as knowledgeable respondents within your institution are likely to have all the required information readily available. 
5. How can I seek assistance or clarification if I have questions about the survey?
For any questions or clarifications or if you encounter any issues with the online form, please don't hesitate to contact Mr. Filip Mitrovic ([email protected]) or Mr. Assana-Richard Ayizou ([email protected]). 
6. How does participation in the GAIN Survey contribute to our understanding of refugee, IDPs, and stateless populations?
Participating in the GAIN Survey allows EGRISS to gather comprehensive and accurate information, enabling better addressing the unique challenges faced by practitioners making efforts to include these populations in official statistics. Your input is instrumental in shaping policies and strategies in this regard. 
7. What if we have more than one project to report?
You can include multiple projects in a single questionnaire. When completing the survey, you will select the number of projects you are reporting on (question PRO02) and provide relevant information for each project in the designated fields. 
8. What if we have planned or initiated but not completed a project in 2023, is it still relevant to include in the survey?
Yes, please include information about planned, in-progress, and/or completed projects in 2023 in the survey (in the PRO section of questionnaire). 
9. What if I have already reported on activities last year to EGRISS?
Please provide update/progress information in this year's survey. Projects reported in previous years will be pre-loaded in the 2023 survey (in the UPD section). 
10. Here is the list of some of the key terms in the survey that can help completing the questionnaire:
Project (in PRO01 and PRO01A) in this survey is an organized initiative taking place in 2023 that includes or solely focuses on improving/producing national statistics on refugees, IDPs and/or stateless people. These initiatives encompass a wide range of activities. For instance, they might involve working on a data source like implementation of a survey, administration of a database, work on a census, a data integration project between different data sources, work on a non-traditional data source. Alternatively, they could entail developing tools like strategies, guidance documents, or the organization of training sessions and workshops. These projects can occur at different levels, whether on a national, regional, or global scale, and they may be at various stages of progress in 2023, including planning or implementation phases. Additionally, projects can entail collaboration with partners. Respondents have the option to briefly describe their other specific initiatives, which may include activities not explicitly listed in the examples provided.
Data sources and tools (PRO08) used to provide information on the project can be: (A) statistical surveys, (B) government records and databases, (C) general population censuses, (D) combining data from many places, (E) non-standard sources like humanitarian groups or social media data, (F) developing strategic documents, (G) following guidelines or toolkits, (H) giving training or workshops to get data, and any other source not listed where data comes from. 
Challenge (in PRO19 and PRO20) in this survey refers to significant difficulties encountered during the project such as (A) trouble getting data from everyone, mistakes in data collection(C) difficulties in identifying specific groups like refugees or stateless people, (D) concerns about data confidentiality and privacy, as (E) resource constraints (like not having enough money or people), (G) issues related to politics or security, (H) delays or issues with data quality, (I) not having the right skills or tools for the project, (J) lacking clear instructions, or any other unique problems faced during the project. 
Learn more about other activities: