International Recommendations on Statelessness Statistics (IROSS)
In 2021, EGRISS' mandate was extended to incorporate the development of the International Recommendations on Statelessness Statistics (IROSS). Similarly, to the IRRS and IRIS, the IROSS is being developed in collaboration with affected countries and international experts through an EGRISS subgroup. Once endorsed, internationally recognized recommendations on statelessness statistics and will be instrumental for enhancing the quality and comparability of national statelessness data. IROSS is expected to include:
Legal framework for statelessness;
Definition of statelessness for the purpose of statistical measurement;
List of basic data tabulations and indicators;
Assessment of data sources and methods and ways to improve them;
Analysis of the characteristics of stateless populations; and
Steps to improve statistical coordination.
A critical aspect of the statistical framework will be to better distinguish between stateless persons and those of undetermined nationality for statistical purposes. The IROSS is planned to be submitted to the UN Statistical Commission (UNSC) in March 2023 for discussion and endorsement.
In advance of the IROSS submission, a 'Report of the EGRISS on Statelessness Statistics' was discussed during the 53rd session of the UNSC in March 2022. Written statements in support of the work of EGRISS in developing the IROSS were received from 14 countries and one region, including: Sri Lanka, New Zealand, Qatar, Colombia, Kuwait, Philippines, Egypt, Malaysia, Mexico, Mongolia, Ukraine, Norway, Portugal, State of Palestine, and Somalia on behalf of the African Group. A written statement was also submitted by the United Nations Economic and Social Commission for Asia and the Pacific.
The Statistical Commission fully supported the work and invited the EGRISS to submit the complete recommendations in 2023. Additionally, the Commission provided valuable feedback on the group's priorities for finalizing the statistical recommendations, indicating the need to place emphasis on the operationalization of concepts and definitions, quality issues associated with data sources, the provision of capacity building for harmonized statelessness statistics and the critical importance of national coordination.
In June 2022, the EGRISS Secretariat convened a meeting of the Statelessness Subgroup in Copenhagen to finalize the recommendations. Discussions included improvements to the statistical framework, the use of data sources to collect statelessness statistics, and mechanisms to address feedback and guidance received from the UN Statistical Commission in 2022.
Relevant downloads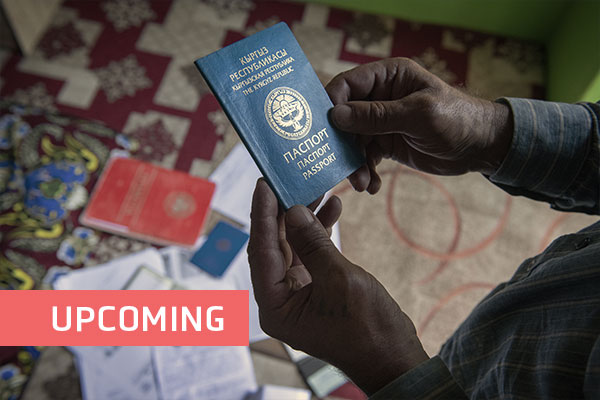 Read more about how countries and institutions have started to apply the recommendations to harmonize definitions and concepts, include refugees and IDPs in national data collection exercises, build capacity and improve the coordination between different stakeholders working in the area.